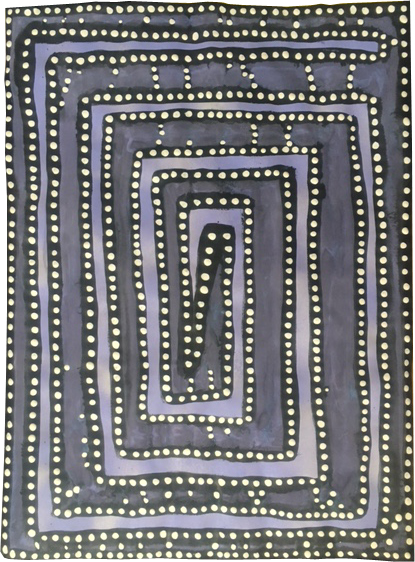 Travis Iurato Atlantean Frescoes
Opening November 26, 2016, 6-8 P.M.
On view through December 17, 2016
Atlantean Frescoes is a new body of work inspired by Iurato's 2014 visit to Bavon, VA. The artist reflects on the water and marine motifs while imagining the frescoed walls that would decorate the mythical lost city of Atlantis. Iurato seeks to "touch people in a deep place, to stir them with ancient feelings" and simultaneously "excite them with something new." His series of slab-like patterned paintings in ink echo preserved artifacts while speaking to life by the water in the 21st century.
"I was thinking about the water, the beach, and connecting it to Bavon, our time there, the moonlight, the surf, the patterns in water, in beach forms, in sea life. The lilac really resonated with this watery spirit. It became an exploration of marine motifs in pattern and form, and I was thinking about the Atlantic Ocean, and then the lost city of Atlantis… Obviously people living near or on water would have a profound feeling for water, and it would enter the imagery of their art. Dolphins, octopi, ripples, waves, sea snakes, shells, spirals, and so on. I think it was the lilac that really got me thinking along those lines, conjuring those images. Such a calming, cool, quiet color. Feels like deep water, moonlight on water, salty breeze."
Travis Iurato (born 1985, Tucson) lives and works in Flagstaff, AZ where he is the Artistic Director of the Flagstaff Arts Council and co-directs curatorial project New Age Drinks. He received his BFA from The Cooper Union in New York in 2009. Iurato currently has an exhibition 100 Dibujos de 100 Cosas at the Museum of Northern Arizona and has also shown his work at venues including Satellite Contemporary (Las Vegas), Studio DTFU (Dallas), Ferro-Strouse Gallery (Miami) and Recession Art (Brooklyn).